Aisha has been a part of the Pakistani entertainment industry for decades now. She is an actress, host and a model who is very enthusiastic about her work. Aisha was born on September 27, 1982.
Aisha's age
Ayesha is 34 years old.
Ayesha and Humayun Saeed
In her long career Aisha's name was attached with Humayun Saeed for years mainly because of the fact that at one time in order to promote their drama, they made the viewers believe that they actually were married. They used to come to morning shows as guests together like husband and wife. Later on even though they cleared that this was only a publicity stunt, many people missed their clarification and continued thinking they were married. Even after their clarification, there were rumors that both of them were romantically involved.
Ayesha and Hamza Ali Abbasi
Aisha's name was also attached to Hamza Ali Abbasi but both of them clarified that they were nothing more than good friends.
Ayesha and Feroze Khan
Aisha and Feroze Khan are playing the lead in the play Woh Aik Pal. Feroze Khanposted some pictures of him with his co-star Aisha Khan on instagram and people started making comments which were in bad taste. Feroze Khan later on made a video telling all these people off for judging them like that.
Ayesha's Plastic Surgery
Aisha's looks have changed tremendously in the past few years owing mainly to plastic surgery. She got a nose job done, she got cheek fillers and lip augmentationas well. She looks even more radiant than ever after getting the surgeries done.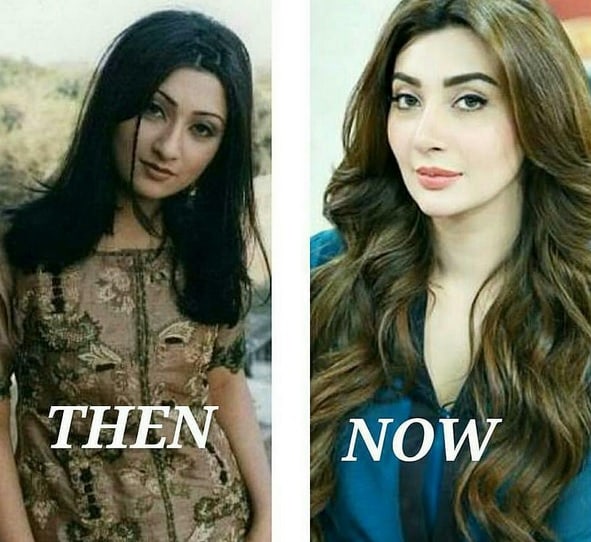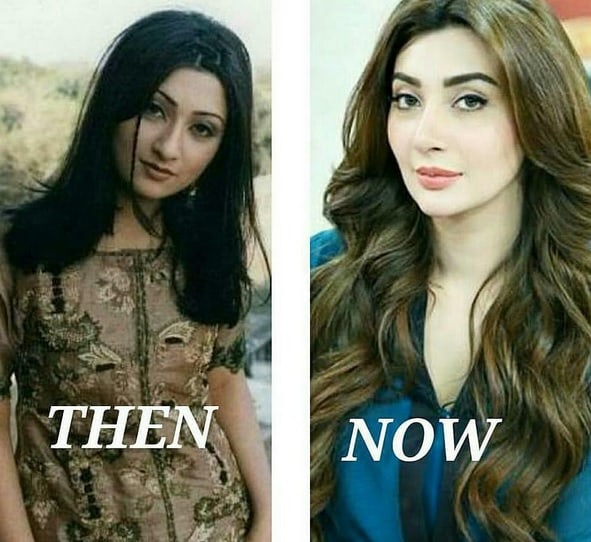 Aisha's Dramas
Tum Yehi Kehna – 2003
Mehndi – 2003
Shiddat – 2005
Manay Na Yeh Dil – 2007
Khamoshiyan – 2008
Meri Adhoori Mohabbat – 2008
Mujhe Apna Bana Lo – 2008
Socha Na Tha – 2008
Char Chand – 2008
Mehman – 2009
Mulaqat – 2009
Man-o-Salwa – 2009
Haroon Tu Piya Teri – 2009
Massi Aur Malika – 2009
Khuda Zameen Se Gaya Nahin – 2009
Bol Meri Machli – 2009
Vasl – 2010
Ijazat – 2010
Choti Si Kahani – 2010
Chain Aye Na – 2010
Parsa – 2010
Lamha Lamha Zindagi – 2011
Zip Bus Chup Raho – 2011
Tum Ho Ke Chup – 2011
Mere Charagar – 2011
Kuch Pyar Ka Pagalpan – 2011
Jab Naam Pukare Jayen Gay – 2011
Kaafir – 2011
Manay Na Yeh Dil – 2011
Maseeha – 2012
Bari Apa – 2012
Mujhe Khuda Pe Yakeen Hai – 2013
Shuk – 2013
Pyar Mein Dard – 2013
Kheyloon Pyar Ki Bazi – 2013
Soteli – 2014
Mehram – 2014
Shert – 2015
Dil Ishq – 2015
Tumhare Siwa – 2015
Mann Mayal – 2016
Noor-e-Zindagi – 2016
Khuda Mera Bhi Hai – 2016
Woh Aik Pal – 2017
Aisha's Films
Waar – 2013
Abhi Tu Mein Jawan Hoon – 2013
Social Media Handles
Instagram – aishakhanofficial
Twitter – aishakhanrao
Facebook – Aisha Khan
Ayesha's Pictures